Organise your conference in Quimper!
From business meetings to national congress, Quimper is the new up and coming convention and event destination.
Enjoy the services of the Congress Office, that will accompany you from A to Z in the organization of your event, taking advantage of the new infrastructures (The Chapeau Rouge Congress Centre and the Penvillers' Exhibition Centre) and all the tailor-made services (packaged offers, group hotel reservations, entertainment program, catering, conference mobile application ...)
Just one address: Quimper Evénements - bureau-congres@quimper-evenements.fr - Tel. +33 (0)2 98 52 00 16 - Website
The Quimper-Cornouaille Exhibition Centre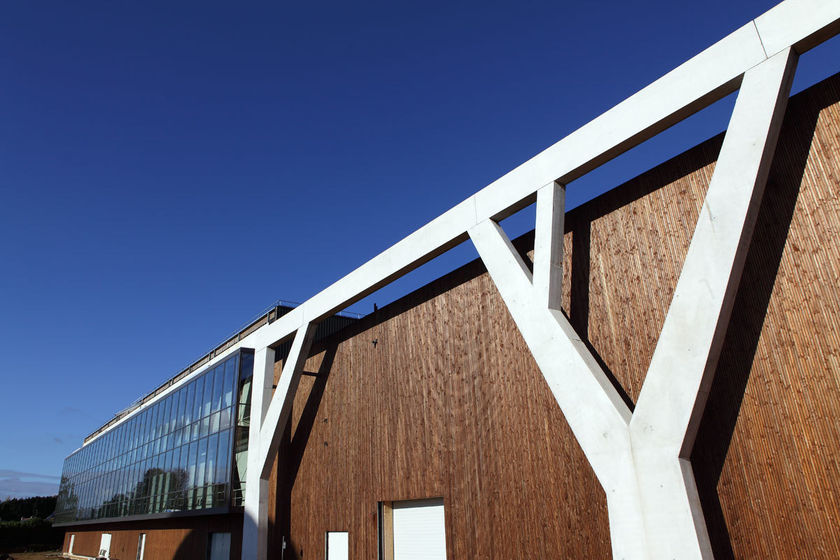 The Quimper-Cornouaille Exhibition Park
Professional meetings, exhibitions, concerts, shows, sports events ... The new Quimper Cornouaille Exhibition Centre is the venue for all major events.
The Penvillers' site is made up of two multifunctional spaces (Le Pavillon - 2500 m²) and (L'Artimon - 4.000 m²), linked together by a reception area, and a large forecourt of 4000 m² allowing events to be hosted outside under marquees.
Only 5 minutes from the historical centre of Quimper, the new complex offers over 8,000 m² of covered area and service spaces in every configuration imaginable.
Aesthetics, attractiveness and functionality are the key words that distinguish this brand new facility for the comfort of exhibitors, visitors, and organizers.
With an optimal floor space (unrestricted by columns) and very high ceilings, the new Quimper Cornouaille Exhibition Centre offers all modern day comforts (ultra-fast and silent heating, water connections, 100 MBps wi-fi, electricity distribution...).
With its two halls (Pavillon and Artimon) designed to accommodate even the most creative configurations, the Quimper Cornouaille Exhibition Centre is positioned at the forefront of facilities in Western France.
Quimper Western Brittany has entrusted the management of this facility to Quimper Evénements.
The Chapeau Rouge Congress Centre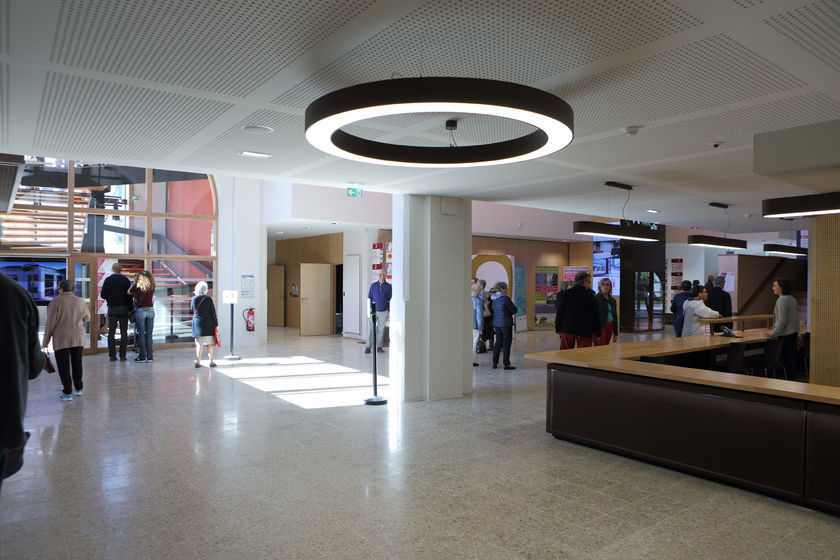 The Chapeau Rouge Conference Centre
The new Chapeau Rouge congress centre was inaugurated on Saturday, 8th April 2017 by Ludovic Jolivet, Mayor of Quimper and President of Quimper Western Brittany.
Woven metal, screen-printed glass, elevator and panoramic terrace: a new page has turned for this completely restructured building, which was previously dedicated to trade and culture. Quimper Western Brittany has chosen to make it a Congress Centre which measures up to the ambitions of the capital of Cornouaille.
Over almost 2,000 m², it allows the organisation of congresses, conferences, seminars, general assemblies, business dinners, product launches, and other receptions. Its public? The economic world, institutions, professional associations and organizations, departmental, regional and even national actors, seduced by the strong identity of Finistere's tip: Quimper. The city that is proud of its differences, attractive by its art and history heritage, and its proximity to the sea ... all assets that would make participants only want to come back!

Flexible spaces for all formats
Very functional and versatile, the building can be entirely privatised. Its possibilities of use are innumerable: from 20 to 1 140 people at the same time. It is part of a sustainable development approach and limits its needs in energy (bioclimatic design).
Optimal acoustic performance and high-quality technical services (audio, video, digital ...) have been privileged throughout.
There are five committee rooms. On the ground floor: a large hall and a vast exhibition space; on the first floor: a committee room and spaces and dedicated green rooms for speakers, journalists and organizers; on the second floor, the large plenary room with seating for 400 can be used in all kinds of configurations thanks to its removable seats; the top floor, an area perfect for cocktail parties and catering, extended by outdoor terraces, offering breath-taking views of the city.
A complete offer, personalized support
The Chapeau Rouge Congress Centre is operated by Quimper Evènements, as is the Quimper Cornouaille Exhibition Centre (shows, fairs and exhibitions ...): these two facilities complement each other perfectly. This local mixed economy company accompanies its clients from A to Z in the organisation of their event.
Their expertise includes general organization, transportation, hospitality, technical services as well as hotel reservations, catering and communication. Their team offers turnkey days, including of course the discovery of the city centre, an important part in the attractiveness of Quimper.
Just one address: Quimper Evénements - bureau-congres@quimper-evenements.fr - Tel. +33 (0)2 98 52 00 16 – Website