Quimper's swimming pools are run by Quimper Bretagne Occidentale.
Aquarive, situated at Creac'h Gwen, on the banks of the Odet, offers recreational fixtures and a sports pool, providing relaxation and recreation for all the family.
Kerlan Vian is mainly dedicated to those learning to swim and is aimed at schools, but also for children and adults at the swimming school. Various aquatic activities are proposed by numerous associations.
Aquarive swimming pool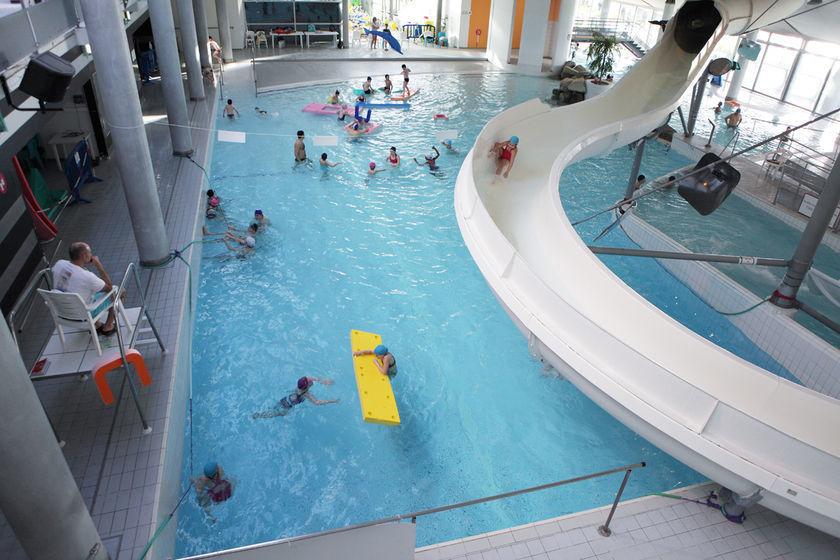 Aquarive swimming pool
Nestled on the banks of the Odet at Creac'h Gwen, the Aquarive swimming pool has a 25m sports pool with 5 water lanes at a temperature of 29°, a wave pool, a 60m long/8m high water slide, and also a recreational space with a pool and games for children. Aquarive also offers a spa area with solarium, Jacuzzi, hammam, saunas, and massothermie (massage and heat) to aid with relaxation.
A weekly evening session permits swimming or relaxation until 10pm
Aquatic Activities
Aquarive offers many aquatic activities for all ages and all fitness levels:
Future mothers: helping future mothers to relax and tone up throughout their pregnancy.
Aqua-babies: to accustom very small children to the water, sharing super moments with their parents.
Aqua-discovery: for children under 6 years old
Ados party: festive evenings for adolescents from 11 to 15 years old, held on the eve of school holidays.
Aquagym : to work all your muscles without feeling the pain
Aquabike: aquatic bikes that help slim and tone the body, group classes or solo rental.
Aquaphobie: for adults who wish to gently overcome their fear of water.
Aquatonic: intensive aquagym sessions combining swimming and jogging.
Circuit training athletic sessions combining the benefits of aquagym and aquabike
Classes are held weekly. No classes during the school holidays or on public holidays. A medical certificate is required.
Aquarive
159 boulevard de Creac'h Gwen - Tel. 02 98 52 00 15 - aquarive@quimper.bzh
Bus route 1 / Kéradennec - bus stop Aquarive (Sundays route A)