The 14 communes in the conglomeration
Quimper Bretagne Occidentale is made up of 14 communes: Briec, Édern, Ergué-Gabéric, Guengat, Landrévarzec, Landudal, Langolen, Locronan, Plogonnec, Plomelin, Plonéis, Pluguffan, Quéméneven et Quimper. It has 100,412 inhabitants.
The map of Quimper Bretagne Occidentale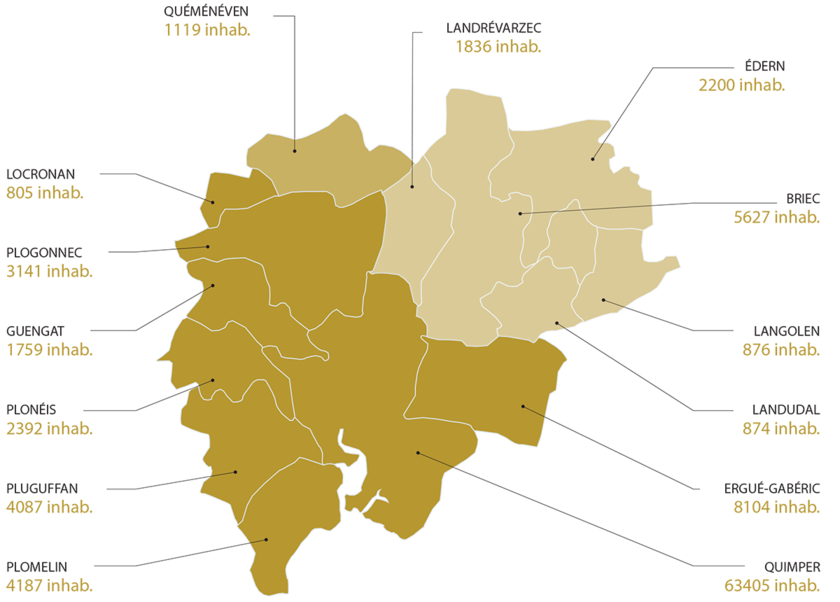 The map of Quimper Bretagne Occidentale

Briec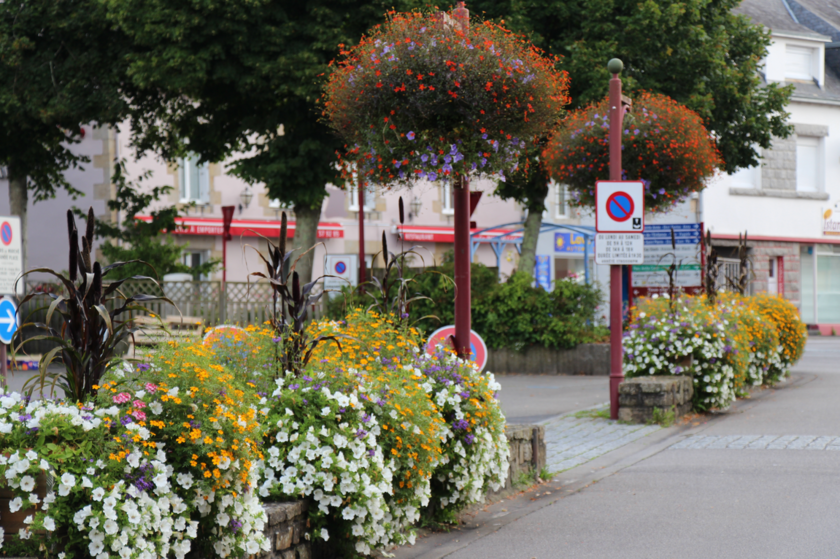 Briec
Briec is a town with 5,627 inhabitants and covers an area of 6,787 hectares. It enjoys a particular geographical position with, in the east, a small islet located between Landudal and Edern. It is adjacent to the communes of Lothey and Gouezec in the north, to Quimper and Ergué-Gabéric in the south, and Landrévarzec and Cast in the west.

Located about 10 minutes away from Quimper, 45 minutes from Brest, Briec occupies a strategic place and is crossed from north to south by the national Lorient-Quimper-Brest highway. The majority of inhabitants live in the urban centre of Briec and all the public services can be found here. The remaining residences are scattered between a few small hamlets and estates located in the southern zone.

Briec has kept a rural economic vocation but the food industry and tertiary industry are on the rise. Today, Briec is an attractive town offering many services to the population: nursery, child minder centre, public and private schools from kindergarten to middle school, leisure centre, and after-school care. It has sports facilities: football fields, tennis courts, athletics track, Skate Park, sports complexes, dojo, swimming pool, etc. Local life in Briec is stimulated by a network of more than a hundred associations.
Édern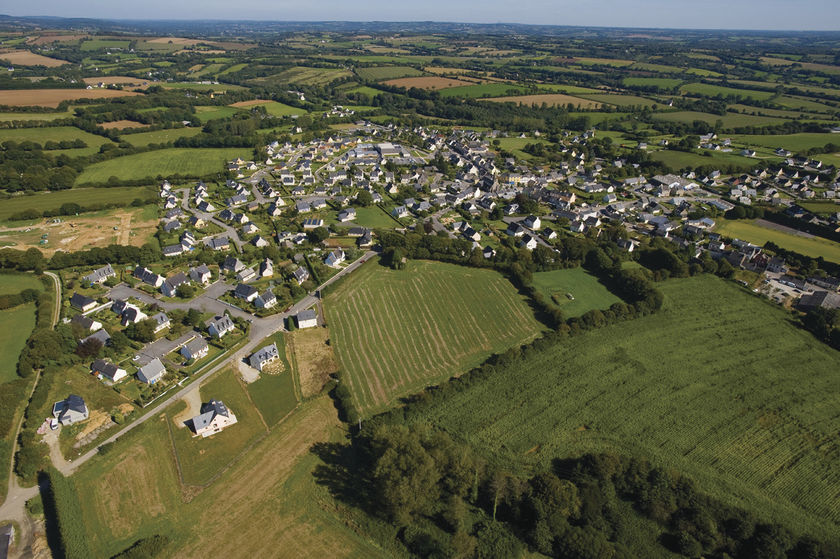 Édern
Édern, a town with a population of 2,200, was originally a hermitage founded by St. Edern in the 10th century. Proud of its architectural heritage, Edern remains a rural, agricultural commune although in development with a rising population of young families. Situated 16 minutes from Quimper, it offers its inhabitants the opportunity to enjoy the services of the nearby large town.

Spread over a hilly landscape, the rich and varied architectural and rural heritage is an invitation to stroll and discover. The area is attractive and dynamic, the density and vitality of the artisanal, agricultural and associative life all testify to this. Edern offers a complete set of services and local shops, a post office and two schools (25 students) of nursery and primary level including a private school, and meeting places for the inhabitants, contributing to the commune's quality of life.
Thanks to the increase in the internet network speed in the south-east area and the deployment of fibre optics (in progress), Edern has, throughout its territory, a good level of internet speed that is appreciated by companies and residents alike. Associations offer a wide range of sport and cultural activities. The André Angot Centre provides a place for the organisation of events, meetings or activities by associations and companies that wish to do so.
Ergué-Gabéric : a green town!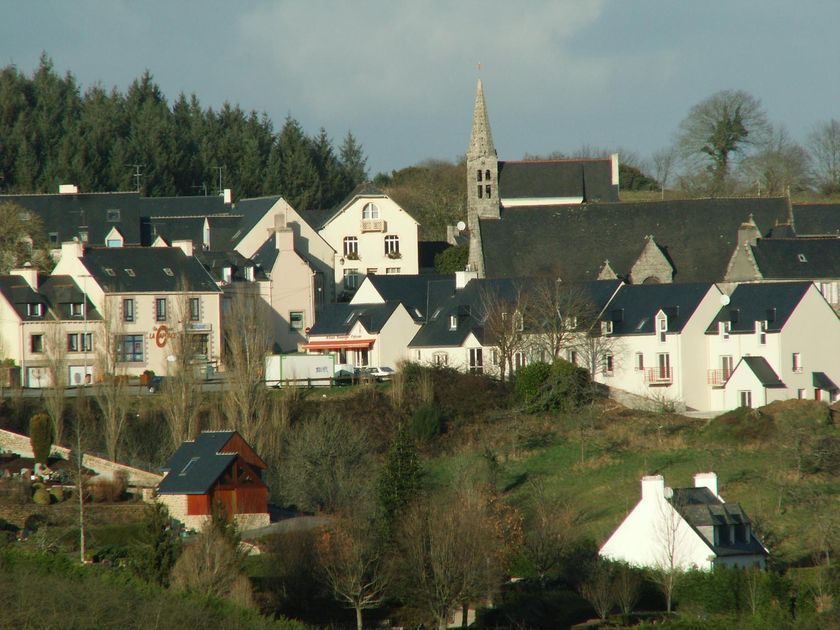 Ergué-Gabéric : a green town!
With a constantly growing population (8140 inhabitants), Ergué-Gabéric proves that it is possible to reconcile environmental quality and economic vitality
Rich in nature sites, such as the woods of Stangala, Ergue-Gaberic is bordered by both the Odet and Jet rivers...
With a semi-urban infrastructure, Ergué-Gabéric, in the immediate vicinity of Quimper, provides all the services needed for daily life: nursery and primary schools, creches, a cultural centre, sport facilities, urban transport, local supermarkets and shops.

Many businesses are located there.
Guengat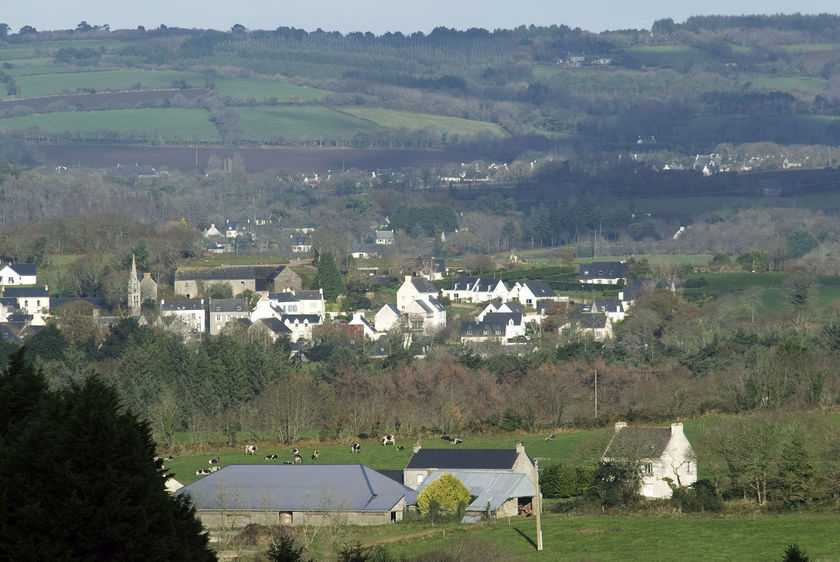 Guengat
Guengat is situated 13 km from Quimper. The municipality has 1,705 inhabitants, spread out over 2,272 hectares.
Available to the public are a school, a post office and a media library (tel. 02 98 91 19 38).
Guengat provides a pleasant living environment. Some forty companies are established there.
Landrévarzec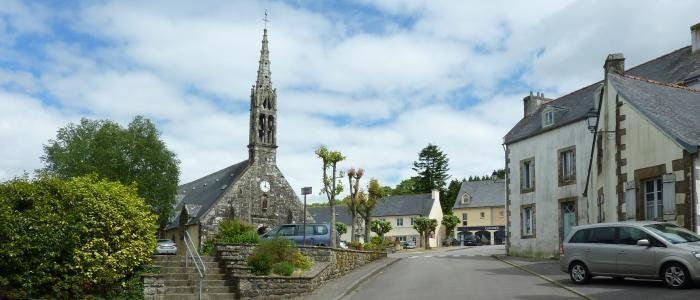 Landrévarzec
A rural commune located north of Quimper, Landrévarzec is bordered on the north by the communes of Cast, Quéménéven and Plogonnec, on the east by the commune of Briec and on the west by the Steir valley. Landrévarzec is crossed from north to south by the departmental road 770 which connects Quimper to Brest. At the last census (INSEE 2016), the population is 1836 inhabitants, with a density of 84.4 inhabitants per km². 91.1% of the dwellings in the municipality are principal residences.
Landrévarzec is rich in its diversified economic activity, in sectors such as agriculture, artisanal, trade and food industry (Guyader Gastronomie, Croissant "Les Volailles de La Bruyère Blanche", Volaven).
The town has a strong architectural heritage: the Notre Dame de Quilinen Chapel (fifteenth century) and its calvary, the Saint Guénolé parish church, the Saint Guénolé fountains (rue de Ty coat), the Saint Jean fountain (near the church), and the Quilinen fountain.
Many diverse and varied associations promote their dynamism and cultural awareness.
The Celtic circle "Gwen Ha Du", worthy representative of the town in Brittany and throughout France is one example among others of this.
Landudal

Landudal
Landudal is located 5 km from Briec and 15 km from Quimper, near the main highways. It has a population of 874. Landudal is a rural community, historically focused on agriculture. Polyculture, farms and orchards shape the landscape. The rugged topography of the village and the lack of consolidation have preserved this dense, green grove. Many hiking trails have been preserved. The history of the town is rich due to the history of the navigator Yves Joseph de Kerguelen de Trémarec, discoverer of the Kerguelen Islands and 1st deputy of the district of Quimper. Interesting fact: in 1818, there were 4 mills in the Landudal territory. Despite their inactivity, their remains are still visible.
Landudal is also characterized by places such as the pretty flowered washhouse at the entrance of the village and the Landudal trails that pass through the natural and unspoilt countryside. The many preserved hiking trails testify this. Indeed, the town is crossed by the GR 38, the Santiago de Compostela pilgrim route, the Tro Breiz and many of the territory's hiking circuits.
With its history and its landscapes, Landudal also counts on a rich associative life (11 associations), a mountain biking club, school and its training area, a football club, gym, zumba... The commune of Landudal is planning the construction of a new district (Le Clos du Dourlez) and the construction of paths near the village.
Langolen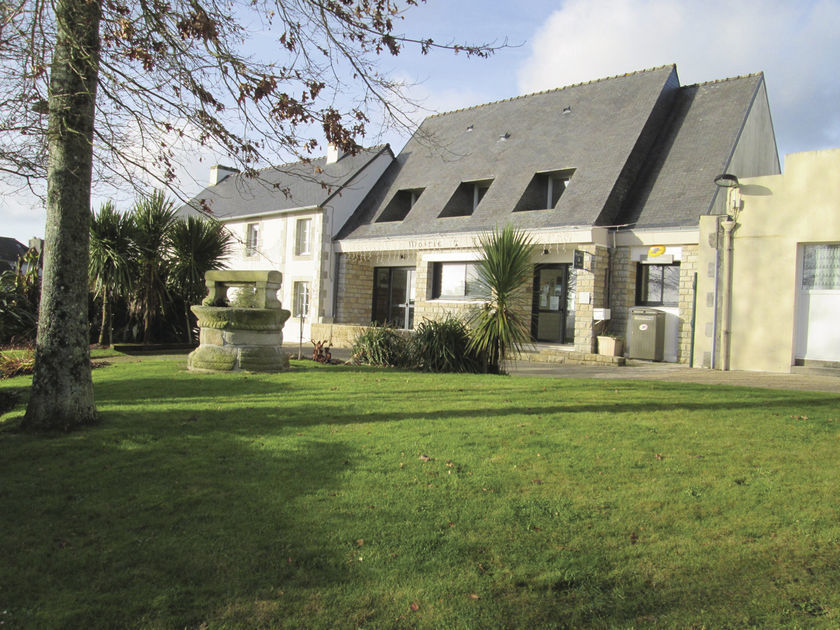 Langolen
Langolen, situated on the bank of the river Odet, is a commune of 876 inhabitants. It's located less than 20 km from Quimper and less than 30 minutes from the southern beaches of the department. It is a pleasant commune to live in with its green and spacious village offering the possibility of many walks in the surrounding countryside following its hiking trails.

The predominant activity here is agriculture; there are also a dozen craftspeople as well as a local shop, a pub, a cabaret bar, a primary school, a post office as well as sport and cultural associations. Langolen offers a typical heritage with its 15th century church, its calvaries and the Trohanet Castle estate straddling Langolen and Briec de l'Odet.

Locronan, village of art and history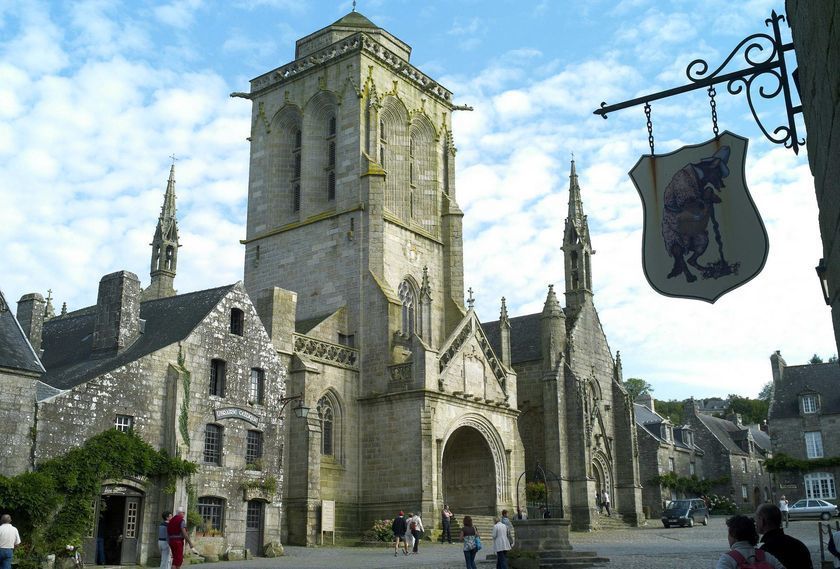 Locronan, village of art and history
Due to its architectural quality, Locronan has been awarded several titles, including "Little Breton town of character" and "(one of) The most beautiful villages of France"
The collection of remarkable mansions, dating from the 17th and 18th centuries, housed the headquarters of the Indies Company, the canvas office, wealthy canvas merchants...
Located on a mountain, in an area of exceptional natural heritage, 5 km from the sea, Locronan has approximately 30 kilometres of hiking trails.
The charm of this small town has attracted many artists and craftsmen. On street corners and in the square are workshops and galleries, tempting visitors into their universe...
Plogonnec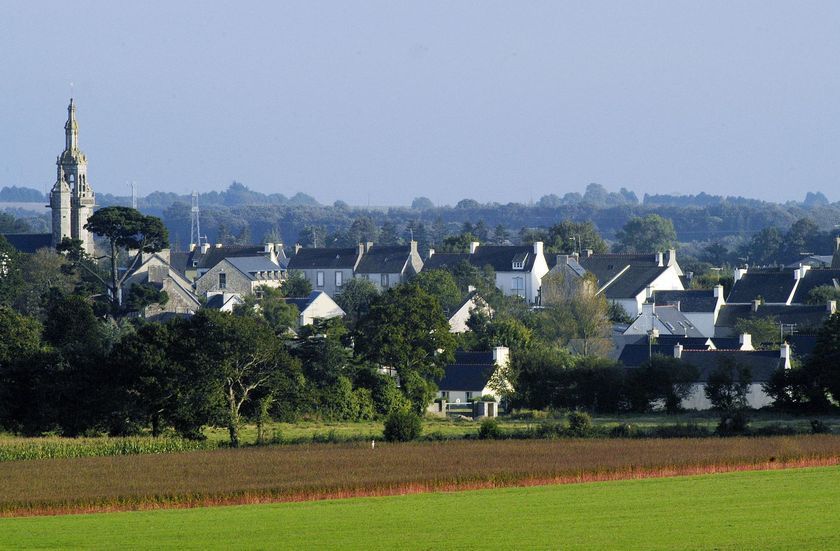 Plogonnec
Plogonnec, a municipality of 3,070 inhabitants in the heart of unspoilt countryside, is located 13km from Quimper, the capital of Cornouaille and of Finistère, 10 km from the fishing port at Douarnenez, famous for its bay and its beaches, and 4 km from Locronan, one of the most beautiful villages in France..
The population of Plogonnec is mostly concentrated in three urban locations: the village, Le Croezou and Saint Albin. 70% of the commune's land is used for agricultural production..
Plogonnec offers local shops, health care services, a post office, an activity zone, skilled craftsmen, three primary schools, including one private school, a centre for dependant elderly persons (E.H.P.A.D.) and a community centre.
Thanks to strong dynamic partnerships, Plogonnec provides a large choice of cultural and sporting activities as well as several hiking and mountain bike trails.
Quality of life and a rich religious heritage, with six chapels and a restored church open to the public, along with locally grown produce, make this town a good place to live, relax and find oneself. Plogonnec is twinned with Llandysul in Wales.
Plomelin, a nice place to live!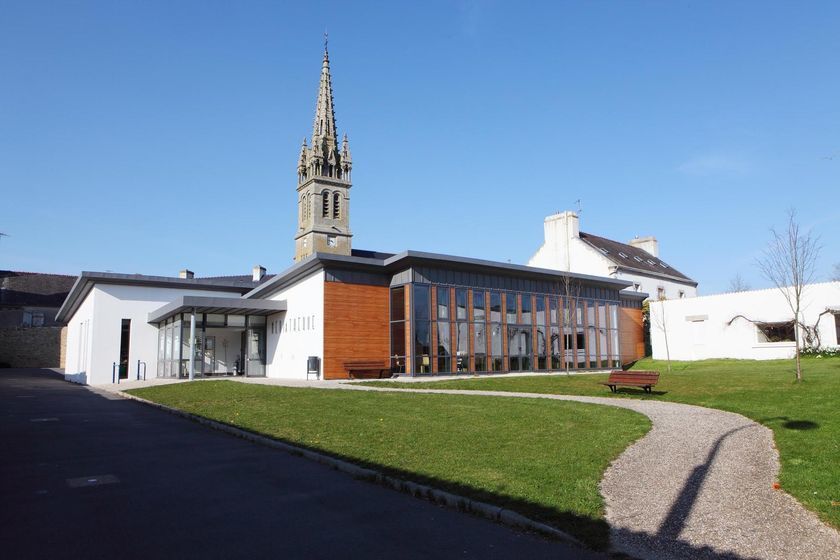 Plomelin
Ideally located on the right bank of the river Odet, halfway between Quimper and the beautiful sandy beaches of Bénodet, Sainte-Marine and Ile-Tudy, Plomelin is an attractive, welcoming commune where it is good to live, distract oneself, or simply take some time to enjoy life.
The Odet and the many footpaths that run along its shores and criss-cross the surrounding countryside make it a privileged environment with undeniable tourist appeal.
Numerous local facilities are available to residents: two primary schools and a horticultural school, cultural and sports complexes, sports grounds, Kerbernez Golf, with the exceptional setting of its 9 hole course, specialized institutions including the Ti Gwen retirement home and a soon-to-be-opened structure dedicated to childhood (multi-hosting, RAM...).
There is a rich social fabric which is particularly dynamic, with more than 50 associations providing a multitude of cultural and sports activities throughout the year. These same associations contribute to the running of the municipality by organising various events: shows, concerts, fairs, exhibitions, not forgetting the pupils who come from all over the world to participate in the Plomelin international football tournament.
Plonéis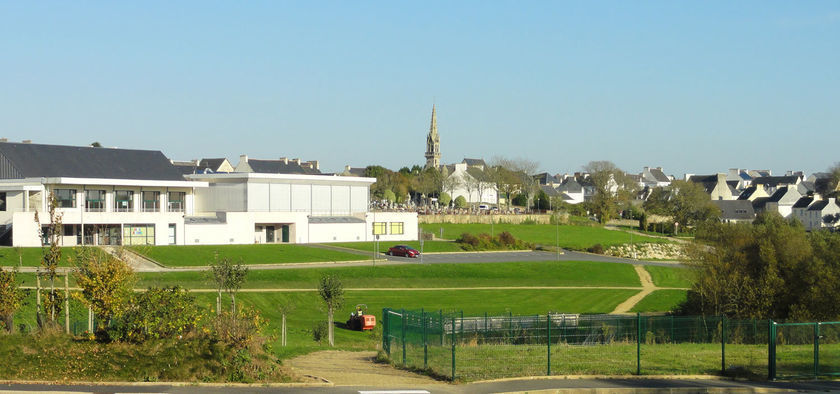 Plonéis
Plonéis (2192 inhabitants), a suburban commune of Quimper, is located 8 km from the latter and 12 km from Douarnenez and its beaches. Plonéis extends over 2,199 hectares with 1,651 hectares of agricultural area.
Plonéis is fuelled by natural gas and equipped with communal sanitation, its housing developments and activity zones are ready to welcome new residents and businesses.
The municipality has a school, a canteen and extracurricular day care, cultural and sports facilities: a media library, a multifunctional hall, soccer fields, tennis courts, judo and weight training.
Healthcare is well covered, with doctor's offices, a dental surgeon, physiotherapist and nursing services. There is also a pharmacy and a taxi-ambulance service.
The dynamism of its cultural associations, sports and hobbies (reading, heritage preservation, the twinning committee, rhythmic gymnastics, football, cycling, tennis, lawn bowling, bodybuilding, walking, Breton dancing...) offers everyone a wide choice of entertainment, including the "recreational afternoons" of the pensioners' society.
The local Union for Rural Life "L'Ulamir e bro Glazik" offers, in addition to cultural activities, a music school..
Radio Kerne broadcasts in the Breton language from Plonéis.
In short, Plonéis offers a pleasant style of life in a borough with local shops (bakery, grocerystore, butchers, cafes, hairdressers, restaurants, supermarket...) and many artisans and businesses.
There is a rich and varied heritage, with the parish church and two chapels (Sainte-Anne and Notre Dame de la Boissière) as well as two manor houses (Kergaben and Kerven), two mills (Lanhoulou and Kerven), two fountains (Saint Gilles and la Boissière) and the Chateau of Marc 'hallac' h'.
A hiking circuit «The source of the Goyen» provides magnificent view points (the lookout at Kerlann Vihan) and many sunken paths wind their way through the hilly countryside of the commune.
Pluguffan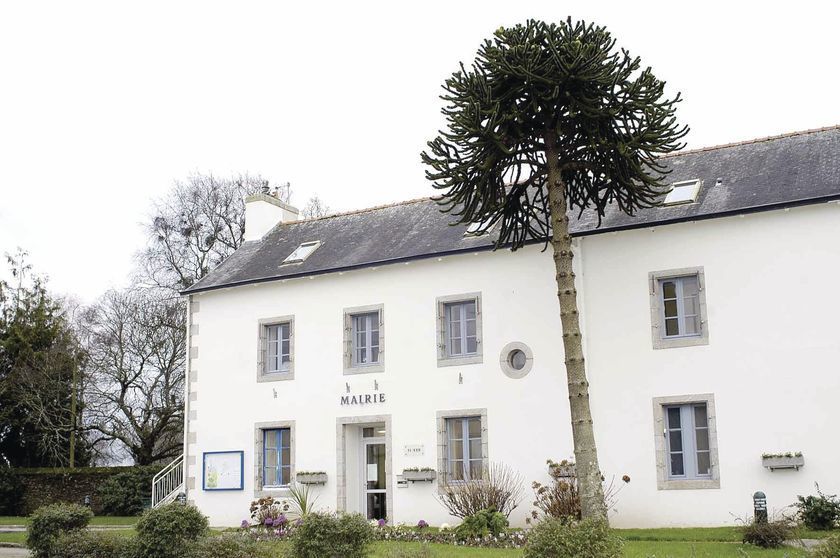 Pluguffan
There are less than 5 km between Quimper, the capital of Cornouaille, and the commune of Pluguffan. The village, where the majority of the 3,946 inhabitants live, has the look of a small town. In the centre the church, a listed building, is surrounded by ancient houses that have been restored. Blending with the landscape, recent suburban areas harmoniously connect to the main streets, which are a lively hub of social and economic life. Secure pedestrian pathways and 18 km of hiking trails in the surrounding area offer multiple possibilities for walking and improving the quality of life..
As well as a strong agricultural presence, occupying nearly 2,000 of the 3,209 hectares in the commune, Pluguffan has three communal activity zones and a recently landscaped community zone. The airport is another bonus, serving the whole of the Cornouaille region.
A lively rural town, Pluguffan welcomes visitors, providing choice, tranquility and dynamism. Pluguffan has many services and public facilities. Pluguffan also has shops, crafts and local services, including healthcare services. The vitality of its diverse social fabric only increases its appeal.
By way of its geographical position, its infrastructure and its already strong economy with thousands of jobs, the town offers interesting prospects for development.
Quéménéven
Quéménéven comes from "Kemenat Maen" meaning the stronghold of Maen, an eleventh century lord. It's a rural village close to the sea, built around three hubs: the village, the train station and Kergoat. The town is crossed by the river Steir, a tributary of the river Odet. It is fed by several streams that allowed the installation of many mills in the past. It has an area of ​​2821 hectares for a population of just over 1119. Enjoy a beautiful walk through the Duc wood in its intimate, luscious green environment!
Quimper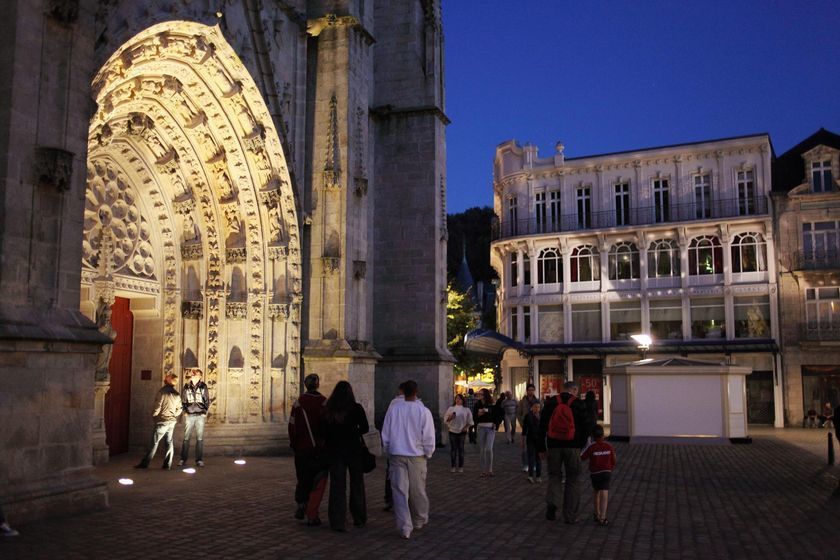 Quimper
Quimper, capital of Finistère and Cornouaille, is located on the estuary of the river Odet, in the south of the department about 15 km from the sea.