A brand new service set up by the agglomeration dedicated for the use of the inhabitants of Quimper, holidaymakers, conference delegates and travellers: the Conciergerie, located in rue du Guéodet in Quimper city centre.
Practical services (information, baggage room, sanitary facilities and a changing table) will be found here, to improve the reception of visitors to Quimper Western Brittany.
The Conciergerie is clearly part of the agglomeration's tourism strategy and reinforces the services offered by the Tourist Office.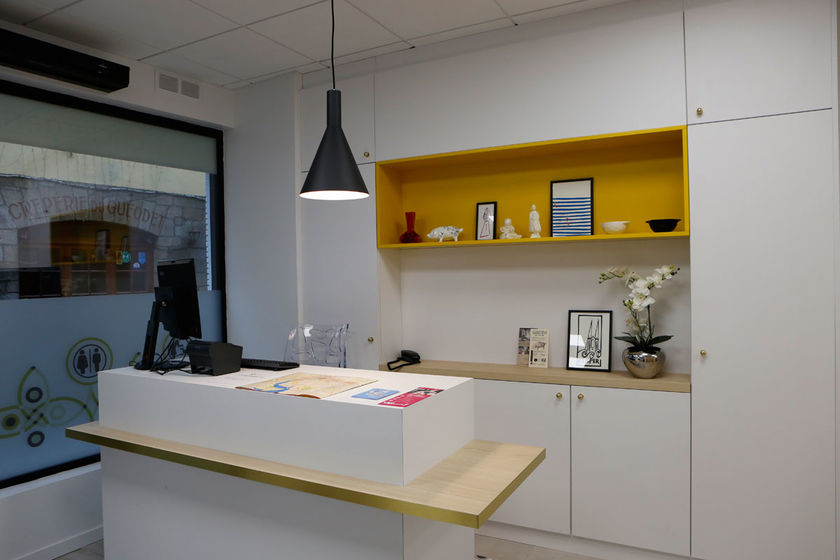 La nouvelle conciergerie rue du Gueodet (2)Photo : Pascal Pérennec
A variety of services for visitors
The Conciergerie is equipped with sanitary facilities, men and women's toilets, but also a baby area with a changing table. Visitors can benefit from a temporary baggage deposit service. Twenty-one lockers are available upon payment of a deposit of €2 for the day.
If required, visitors can also recharge their smartphone or tablet in a designated area.
Vending machines will soon be installed to help travellers: wound dressings, water bottles, sewing kits, razors and other supplies.
The rates of the Conciergerie
Access to sanitary facilities: € 0.5
Baggage deposit: €2 per day / locker
An initiative of Quimper Western Brittany
The capital of Cornouaille attracts a large number of visitors, mainly during the summer season and the end of the year holidays. To enhance the attractiveness of the historic heart of the city centre and improve the reception of visitors, Quimper Western Brittany wanted to develop new services and opens its concierge.
Whereas most concierge services are private and provide domestic services to private individuals, the Conciergerie of Quimper Western Brittany is unique. The management of the premises, the welcome desk and the maintenance will be entrusted to a private provider but the rent and the equipment are financed by the agglomeration. The services are therefore public and the concierge is part of the agglomeration's tourism strategy.
The town centre's concierge will be indicated by road signs from the main entry points of the city in the same way as the Tourist Office.